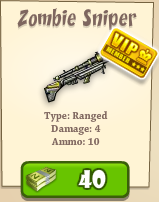 The Zombie Sniper is a sniper that deals 4 damage, and it was introduce in update 7.1.1. It power can destroy a 
strong zombie
. Sadly it is only access to a vip member that purchase a VIP Membership.
Weapon Description
Edit
Weapon Type: Standard
Damage Type: Ranged
Damage: 4
Ammo: 10
Cost: 40 Cash
Only access to vip membership
Bonus per Kill: 25xp, 6 Coins
It used the same sound as the Shotgun.
Ad blocker interference detected!
Wikia is a free-to-use site that makes money from advertising. We have a modified experience for viewers using ad blockers

Wikia is not accessible if you've made further modifications. Remove the custom ad blocker rule(s) and the page will load as expected.