Part of the Cure, you will need to open many a strongbox to obtain these items. You will need 5 clicks per strongbox to open it, and there will be many military and supersoldier zombies around. There are about 100 strong boxes and it's likely you will need to open at least 70.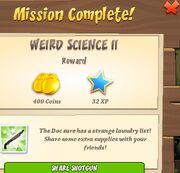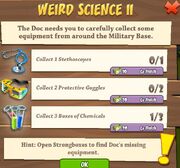 Wierd Science 5
Edit
Flavor Text: unknown
Mission Description: unknown
Goal:
Get 30 doc notes
Get 10 help from friends
Rewards:
Hint: unknown
Completion Text: unknown
Given by: Doc
The next mission chain is Final Cure.
Ad blocker interference detected!
Wikia is a free-to-use site that makes money from advertising. We have a modified experience for viewers using ad blockers

Wikia is not accessible if you've made further modifications. Remove the custom ad blocker rule(s) and the page will load as expected.