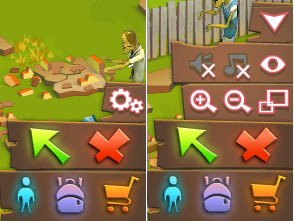 The Menu is in the lower right hand corner of the screen and is made up of multiple options. To access them, push the Menu key. These are the Market, Inventory, Customization, Friends, Edit, and Settings.
Market:
Market holds all the items you can buy in Zombie land. From there you can also access the purchase of energy via food.
Inventory:
From here all of your inventory and collections can be found.
Customization:
Allows you to buy clothing and accessories to customize your character.
Friends:
From the friends area, you can send friends gifts, accept gifts, visit friends, and add friends.
Edit:
This allows you to change your environment. By clicking it you can move items, rotate them, store them, or sell them.
Settings:
You can change with your personal music, sound, language, and notifications from here.