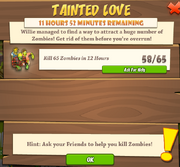 This quest comes up in the Home area and is an "invasion" type.
Flavor text: Willie Managed to find a way to attract a huge number of Zombies! Get rid of them before you're overrun! Goal: 
Kill 65 Zombies in 12 hours
Reward: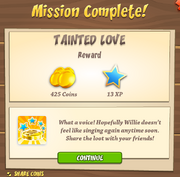 Hint: Ask your friends to help you kill Zombies!
Completion splash:
Falvor text: What a voice! Hopefully Willie doesn't feel like singing anytime soon. Share the lot with your friends

Given by: Willie
Ad blocker interference detected!
Wikia is a free-to-use site that makes money from advertising. We have a modified experience for viewers using ad blockers

Wikia is not accessible if you've made further modifications. Remove the custom ad blocker rule(s) and the page will load as expected.