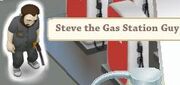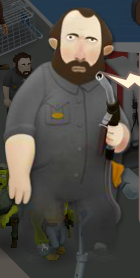 Steve the Gas Station Guy runs the Gas Station in Downtown once it is repaired and finished and gives the questchain:

In the dutch translation this character goes by the name of Peter der Tankstellenbediende.
He seems to have dreams of taking over the world, but later decides it's best simply being a gas station man.
Ad blocker interference detected!
Wikia is a free-to-use site that makes money from advertising. We have a modified experience for viewers using ad blockers

Wikia is not accessible if you've made further modifications. Remove the custom ad blocker rule(s) and the page will load as expected.