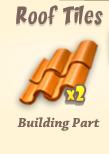 Roof tiles are needed to finish buildings in the home screen. They are dropped by zombies or from clearing rubble.
Roof tiles can also be achieved as free gift from neighbors or acquired using the wishlist.
They are used in the Rebuilding Your House II quest.
Dropped By
Edit
Dropped by "Pavement" type Rubble
Ad blocker interference detected!
Wikia is a free-to-use site that makes money from advertising. We have a modified experience for viewers using ad blockers

Wikia is not accessible if you've made further modifications. Remove the custom ad blocker rule(s) and the page will load as expected.