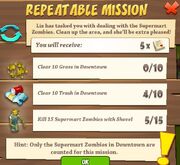 A Repeatable Mission can be attempted again as soon as it is completed. These kinds of missions are done to collect supplies to make buildings in the Downtown area, or to acquire special gifts in home area.
Some repeatable missions are timed and a few of those are called daily missions. This means you will have to wait untill the next (same as before) renewable mission comes up after completing the mission.
Usually the repeatable missions involve a combination of different actions required to complete the mission in order to get a precious hard to get by item, like building materials, building permits, special holiday gifts and so on.
Ad blocker interference detected!
Wikia is a free-to-use site that makes money from advertising. We have a modified experience for viewers using ad blockers

Wikia is not accessible if you've made further modifications. Remove the custom ad blocker rule(s) and the page will load as expected.