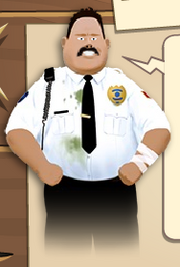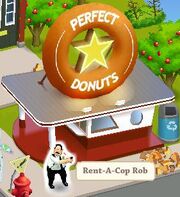 Rent-A-Cop Rob (Rob is short for Robert, as explained in Getting Even) is the first character you will encounter. Throughout the game, he will provide advice and missions. He is armed with a can of pepper spray and creeps about unsurely spraying zombies when he is helping the player on his daily visits. He also has a bandaged wrist...hmm, has he been bitten? 
After level 15, he will hang out near the donut shop in downtown.
Rob can also be visited in your friends/ neighbors menu. He will also show up every day at the player's homestead to provide assistance. After he's done, he will tell the player to invite more friends in a pop-up window. 
Rob's area has garden vegetables and fruits you can harvest, as well as assorted zombies to kill and pavement to mine for Bricks. You can also repair fences and clear trash here if you wish to. Clearing items or killing zombies for achievements do not count at Rob's place. 
In the dutch translation this character goes by the name of Harry de huuragent.