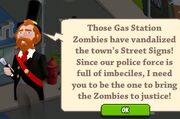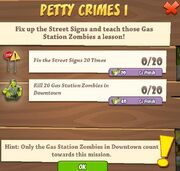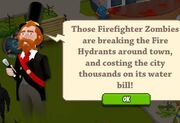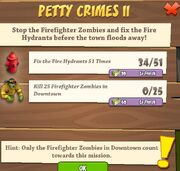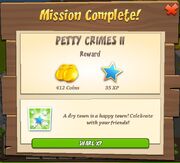 Mission becomes available after completing the Supermarket
Repairing the hydrants, street signs, street lights and bushes can be done before unlocking the missions and still are counted correctly.
Petty Crimes 1
Edit
Repair 20 street signs and kill 20 gas station zombies.
Petty Crimes 2
Edit
Repair fire hydrants 51 times and kill 25 firefighter zombies.
Petty Crimes 3
Edit
Repair flower beds 45 times and kill 40 city worker zombies.
Petty Crimes 4
Edit
Fourth version of this mission chain comes available after finishing the Farm corner. You will need to gather 3 alarmclocks, 6 bread bins and kill 20 city worker zombies. There are only 5 city worker zombies available each time you visit downtown. Needs you to revisit it several times.
Petty Crimes 5
Edit
Fifth version of this mission chain needs you to kill 30 city engineer zombies. Notice that there are only 5 of them each time you visit downtown. So it requires you to revisit downtown quite a few times.
After this chain you are allowed to repair the fountain in the 5th version of the Civil Obedience chain.
Ad blocker interference detected!
Wikia is a free-to-use site that makes money from advertising. We have a modified experience for viewers using ad blockers

Wikia is not accessible if you've made further modifications. Remove the custom ad blocker rule(s) and the page will load as expected.