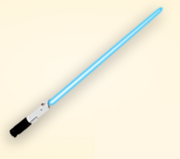 Laser Sword is among the Standard class Melee Weapons.
It is the platinum award of the Craft Master Achievement. The Laser Swords does 2 damage and has unlimited uses. The Katana also does 2 damage but cost 25 Credits and the Chainsaw is available earlier in the game from a free gift.
The visualisation of the laser sword very much refers to the lightsaber from the star wars series.
Any kill made with this weapon give 2 bonus xp.
Ad blocker interference detected!
Wikia is a free-to-use site that makes money from advertising. We have a modified experience for viewers using ad blockers

Wikia is not accessible if you've made further modifications. Remove the custom ad blocker rule(s) and the page will load as expected.