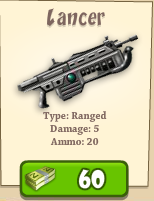 Lancer was first introduce on Christmas Sale on 18th December 2013, Weapon Sale on 10th January 2014, and March Sale on 20th March 2014. It's damage is high where else ammo is medium. It can kill a single strong zombie in one shot.
Weapon Description
Edit
Weapon Type: Standard
Damage Type: Ranged
Damage: 5
Ammo: 20
Cost: 60 Cash
Bonus per Kill: 25xp, 6 Coins
Pros and Cons
Edit
Pros
Damage is high
Gives xp a lot
Ammo is medium
Cons
Expensive
Gives coins very little
Ad blocker interference detected!
Wikia is a free-to-use site that makes money from advertising. We have a modified experience for viewers using ad blockers

Wikia is not accessible if you've made further modifications. Remove the custom ad blocker rule(s) and the page will load as expected.