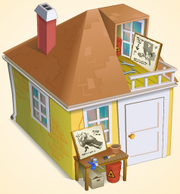 The House is the first building you have to build and finish. It allows you to craft weapons.
The house is unlocked with the Rebuild Your House missions given by Spouse.
The House takes 7 clicks and a total of 7 bricks to complete. Each click changes the appearance of the house until it is complete.
Required to complete house:
10 blueprints are required to upgrade the house.
Once the house is completed you can craft these weapons:
Ad blocker interference detected!
Wikia is a free-to-use site that makes money from advertising. We have a modified experience for viewers using ad blockers

Wikia is not accessible if you've made further modifications. Remove the custom ad blocker rule(s) and the page will load as expected.