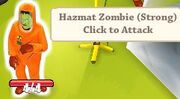 Hazmat Zombies are zombies in orange Hazmat suits. They are Strong and take 4 hits of any weapon. They are the most plentiful source of Alkaline Battery (Battery) .
They only can be found at the crash site (level 20 and up, entrance found at the very left of the primary game screen). The versions around the meteor replenish, the versions elsewhere don't.
Drops:
Alkaline Battery (Battery) (Approx.20% of the time, you will need at least 240 (!!!) of them for finishing all quests at crash site)
Hazardous Chemicals (approx. 15%)
Oxygen tank (approx 15%)
Ad blocker interference detected!
Wikia is a free-to-use site that makes money from advertising. We have a modified experience for viewers using ad blockers

Wikia is not accessible if you've made further modifications. Remove the custom ad blocker rule(s) and the page will load as expected.