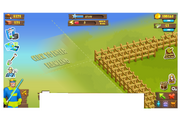 'The Farmland' is a map located in the top left hand corner of the home area, unlocked after collecting 60 seeds from
Gardener Zombies.
Upon entering Farmland, the player will see a bridge covered in weeds. After the bridge, there is a Market Stand, a Water Trough, a Pickup Truck, a Barn, a Tractor, a Ploughed Field, a Windmill, a Chicken Coup, a Silo, a Cattle Shed, a Well and Milk cans, all of which need fixing, and   various hay bales that need   removing at some point.
The first task is to remove the weeds from the bridge into Farmland, which requires the help of three friends, or alternatively can be paid for with ten cash each.
Upon entering Farmland, the player is told by Frank to help repair his Farmhouse - at the cost of one-hundred coins and 1 energy per click, altogether requiring twenty clicks.
Upon completing this, the player is asked to kill ten gardener zombies (Note only Gardener Zombies that are killed in the Farmland count)
Building order:
Farmhouse
Chicken coop
Well
Water throughs(10)
Hay bales(20)
Silo(20)
Windmill(30)
Cattle shed (20)
Barn(40)
Tractor(20)
Field(10)
Market stand(10)
Pickup truck(20)
In Farmland there are 
Hillbilly zombies
Waitress zombies
Supermart zombies
Gas Station zombies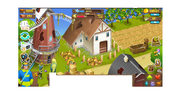 Gardener Zombie
Ad blocker interference detected!
Wikia is a free-to-use site that makes money from advertising. We have a modified experience for viewers using ad blockers

Wikia is not accessible if you've made further modifications. Remove the custom ad blocker rule(s) and the page will load as expected.