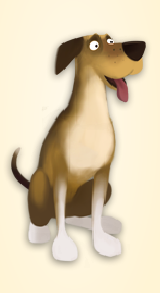 You can find your dog after you have completed Fetching the Dog V mission. Your dog can attack zombies, fix fences, harvest crops and more.
The dog will do 1 damage to each zombie it attacked. A dog can not wield weapons.
The dog appears to have a faster movement speed and can clear rubble and harvest crops faster.
The Android One mission requires you to look for your dog at your neighbours but you are told this is "coming soon" However visiting Rob (the only neighbour available on android) on aprox 4 different days completed the mission.
Ad blocker interference detected!
Wikia is a free-to-use site that makes money from advertising. We have a modified experience for viewers using ad blockers

Wikia is not accessible if you've made further modifications. Remove the custom ad blocker rule(s) and the page will load as expected.