Flavor Text: Unknown
Mission Description:
The mere mention of French Fries has giving you a huge craving for some. Collect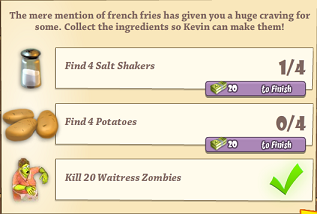 ingredients so Kevin can make some!
Goal:
Reward:
Completion Text: Those fries really hit the spot! Share the golden delicious wealth!
Hint: You can get potatoes from Gardener Zombies and Salt Shakers from Waitress Zombies.
Given by: Kevin
(Follow up quest to helping Kevin collect the 4 pieces of his hot dog cart. )
Next mission: Cooking Lessons