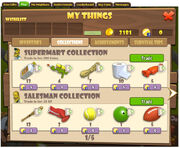 Collections are a group of items that can be traded in for a bonus, usually Coins or experience. Be aware that many collection items are needed for Quest completion or Weapon Crafting, so DO NOT trade them in immediately. My rule right now is to have at least five of each item on hand. The collections correspond to the zombie type that drops them. You can find how many items you have in a given Collection in your Inventory. The number you have is also shown in the Weapon Crafting windows and Quest boxes if it is needed to craft that weapon or complete that quest.
Supermart Zombie: 500 Coins
Edit
Motor Oil, Toy Gun, Rope, Toilet Paper, Candy
Salesman Zombie: 25 XP
Edit
Baseball Bat, Boxing Glove, Tennis Ball, Bowling Ball, Football
Janitor Zombie: 1000 Coins
Edit
Metal String, Alarm Clock, Mop, Lunchbox, Rubber Glove
Gas Station Zombie: 1500 Coins
Edit
Gasoline Can, Propane Tank, Lighter, Car Battery, Hose
Waitress Zombie: 2500 Coins
Edit
Diet Cola, Liquor Bottle, Dry Ice, Dinner Knife, Salt Shaker
Plumber Zombie: 40 XP
Edit
Suspenders, Spray Bottle, Metal Pipes, Plunger, Rubber Duck

Gardener Zombie: 80 XP
Edit
Red Peppers, Rake, Potatoes, Garden Trimmer, Fertilizer

Firefighter Zombie: 3000 Coins
Edit
Fire Extinguisher, Flashlight, Matches, Boot, Metal Bucket

Construction Zombie: 5000 Coins
Edit
Nails, Helmet, Tape Measure, Paintbrush, Traffic Cone




Ad blocker interference detected!
Wikia is a free-to-use site that makes money from advertising. We have a modified experience for viewers using ad blockers

Wikia is not accessible if you've made further modifications. Remove the custom ad blocker rule(s) and the page will load as expected.