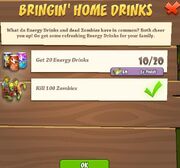 Flavor Text: You've done a great job so far! I think you've earned some nice quality time with your family. Have some fun!
Mission Description: What do Energy Drinks and dead Zombies have in common? Both cheer you up! Go get some refreshing Energy Drinks for your family.
Goals:
Reward:
Completion Text: The drinks tasted a little funny, but they're still a good treat. Share some Food with your friends!
Given by: Rob
Unlocks Mission:
Ad blocker interference detected!
Wikia is a free-to-use site that makes money from advertising. We have a modified experience for viewers using ad blockers

Wikia is not accessible if you've made further modifications. Remove the custom ad blocker rule(s) and the page will load as expected.